Benz DoiP VCX SE is able to access all system of Mercedes Benz for diagnosing, repairing, programming, in stance: read and clear code, read dynamic data stream, action test, activate components, replace and program module, retrofit and modify the car's configuration, replace and upgrade ECU, do personalized settings, do SCN coding and program online, etc.
Benz VCX SE DOIP, with DoNet authorization and dedicated software, can work with:
Mazda(IDS), GM(Chevrolet , Buick, GMC, Cadillac, Holden, Opel, Vauxhall, Pontiac, Hummer, Saab Saturn)
Benz DoiP VCX SE can access to all systems of Benz:
including engine, transmission, airbag, ABS, ECM, SAM, CGW, EZS/EIS, EPKB, HUD, RBTM, HU5, HU55, HU6, HU7, ASR,ETS,ESP, Air, chassis, body, ME2-SFI, instrument panel, central locking control module, electric window control module, air conditioning system, ASR, ETS, ESP, ESM, ABC, TPS, Instrument cluster, Seat modules).
Benz DoiP VCX SE supported models:
A class: 168, 169, 176
B class: 242, 245, 246
C class: 190.201,202,203,204.205
E class: 110,114/115 ,123, 124, 207, 210, 211, 212, 213
S class: 108/109, 111/112 ,116, 126, 140, 217, 220, 221, 222
SL: 107, 129, 230, 231
SLS: 197
SLK: 170, 171, 172 SLR: 199
SLC: 172, 197 CLA: 117
AMG GT: 194 CL: 140, 216, 215
CLS: 218, 219 CLK: 207 (E-COUPE), 208, 209
CLC: 203 R: 251
ML (SUV) 164, 163 GL (SUV) 164, 166
G (Jeep) 463, 461, 460 GLK (Jeep): X204
GLE: 292 GLC: 253
GLK: 201 GLA: 156
M/GLE: 166 GLS: 166
SMART:451, 450 MAYBACH: 240
V class: 639, 638 SPRINTER: 903
The new Mercedes Benz vehicles with DoIP protocol (W222,W205,W206,W223------) require the DoIp device to diagnose and program, Benz VCX SE DOIP is the good choice.
SAE J2534 Passthru
Diagnostic & programming software
WIS (Workshop Information System),
EPC(Electronic Parts Catalog)
DTS Monaco engineering software for free.
With DTS Monaco engineering software, you can quickly diagnose all systems (read and clear fault codes etc), code / program all systems or single ECU, and exchange ECU data.
1. Retrofit Electric Folding Mirror
2. Unlock W212 Airbag
3. Disable Start-Stop Function
4. Enable Static Cornering Lights
5. Passive Keyless Entry
6.Disable Check Engine light
7.Disable Safety Belt Reminder
8.Enable Sound & Light Synchronization
9. Change the chassis number of ESP computer
10. Enable Day Running Lights at night
11. Change the flashing times of Turn Signal Lamp
12. Retrofit PowerTailgate
13. Retrofit Original Factory Atmosphere Lamp
14. Upgrade Low-level configuration headlamp to leveling headlamp
15. Add Rearview Mirror Folding
16. Retrofit Seat Memory
17. Retrofit Original Factory Atmosphere Lamp
18. Retrofit Reverse image
19. Change the splash screen of host
20. Enable Sound & Light Synchronization
21. Disable Safety Belt Reminder
22. Retrofit Power Tailgate
23. Retrofit Keyless Entry
24. Change the flashing times of Turn Signal Lamp
25. Remove restrictions on DVD viewing
26. Remove SCR System
27. SCR Alarm Solution
28. Replace Fahrenheit with centigrade
Benz DoipVCX SE supports Wifi connection, USB connection and network connection.
The interface component, adopts quick pull-and-plug technology, is more stable. Because it is tested to be able to pull and plug 10,000 times.
With the small size and strong structure, Benz DoipVCX SE is easy to carry. It can update firmware and DOIP firmware, etc.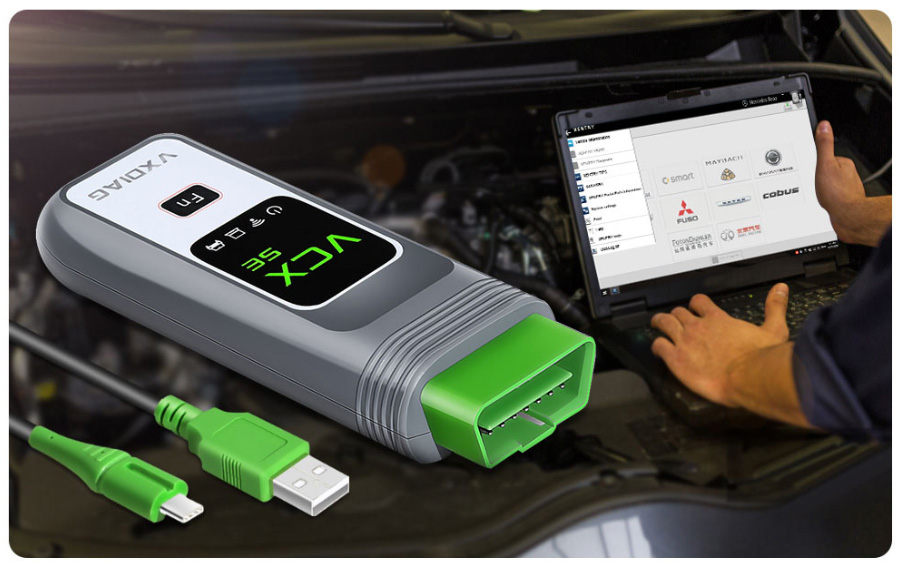 Package includes:
1pc x VXDIAG Benz DoiP VCX SE Professional Diagnostic Tool For Programming And Coding All Benz PK C6
If you need any after-sale technicial support, please inquiry this WhatsAPP account: 0086 188 1368 7743