Product Description
VXDIAG VCX NANO Box is PC-to-vehicle interface compatible with multiple software applications, minimizing your investment in multiple brand-specific diagnostic interfaces.<br />This VXDIAG VCX NANO support GM Tech2Win and GDS2, It can instead of GM original tool of GM MDI.
VXDIAG VCX NANO for GM/OPEL GDS2 Diagnostic Tool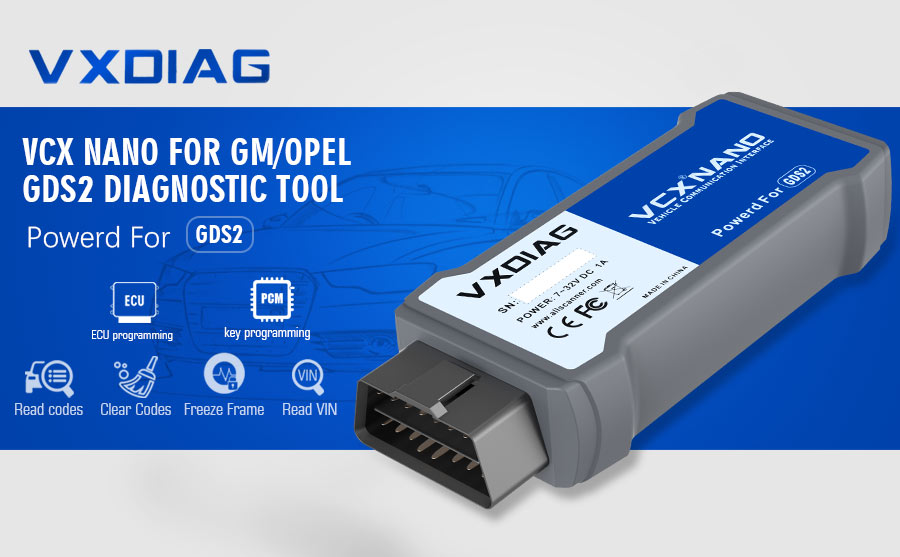 Top 5 Reasons to Get VXDIAG VCX Nano:
1. Compatible with applications that diagnose engines, transmissions, ABS, instrument panels and more
2. Mixed fleet capabilities with broad protocol support
3. Quick access to vehicle data for maintenance or management reports
4. Quickly attaches to vehicle's diagnostic connector
5. May be used with desktop PC or laptop
VXDIAG VCX NANO for GM/OPEL FEATURES:

* Fully compatible with SAE-J2534-1 & SAE-J2534-2
* USB vehicle-to-PC connectivity
* All current and most legacy vehicle protocols: CAN, UART, KW2000, Class2, GM LAN, etc.
* Supports Windows® XP
* CE and FCC compliance for hardware
* Firmware Updatable
COMPATIBLE SOFTWARE:

* Support PC-based diagnostics with rollout of the Global Diagnostic System GDS & GDS2
* Support GM TIS2WEB online Service Programming System (SPS)
* Support Tech2Win application to offering a larger screen with all of the Tech 2 tool functionality

Global Diagnostic System (GDS & GDS2)

* New Diagnostic Application Software required for all GM Global Architecture (Global A) Vehicles.
* GDS & GDS2 is software which runs on a specific PC. Updates received via TIS2Web.

VCX Nano GM Kit support both GDS & GDS2. GDS 2 works similar to the original GDS. easier and faster
GDS 2 provides the following capabilities in multiple languages:

* Read codes, code status, Freeze Frame data and Clear Codes.
* Read VIN, ECU part numbers and software numbers.
* Record, store and replay Stored data.
* Control and monitor Output Control functions.
* Configure and Reset functions.
* Record or display history of the previous vehicle diagnostic sessions.
Service Programming System (SPS)

* passthrough programming on GM past model and Global A vehicles
* Increase reprogramming speed 20-70% and get ready to service new models
For pass-through programming of electronic control units on all vehicles built since 1996 and future model releases. The VCX Nano Prime GM KIT is between 20% and 70% faster than Tech 2.For example, on a new Tahoe hybrid with 7 ECUS, it would normally take 2 full hours to reprogram. But, with VCX Nano the process is completed in just 45 minutes. That's a 64% difference and means you could service 10vehicles rather than 4in an 8-hour day! The potential to increase revenues is dramatic.
New Vehicles Model list

VCX Nano Prime GM KIT is the only full-spectrum diagnostic and reprogramming tool capable of servicing new Delta and Epsilon vehicles (with auxiliary CAN bus that cannot be serviced by Tech2).Below is the list of vehicles being delivered this year that will rely exclusively on this tool for service.
Tech2Win Function

Tech2Win, an application version of the Tech 2 and CANdi (Control Area Network diagnostic interface) moduleTech2Win can be used during a vehicle road test, offering a larger screen with all of the Tech 2 tool functionality. The Tech2Win application offers all of the features and functions of the Tech 2 for Opel, Saab etc.
Packing including:
1pc x VXDIAG VCX NANO for GM
1pc x USB cable
1pc x Diver CD
If you have any questions, please do not hesitate to contact us, below is our contact information:Whatsapp: +86 18750906153
Email:
sales@MBStarTool.com
If you need any after-sale technicial support, please inquiry this WhatsAPP account: 0086 188 1368 7743